Tamarac

Motorcycle Towing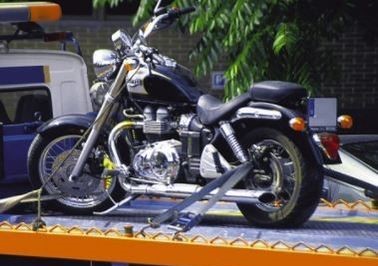 At Tamarac Towing Company, we recognize the passion that Broward County riders have for their motorcycles. That's why we offer flatbed towing services for any type of motorcycle, regardless of the make or model. With two decades of experience in towing motorcycles, you can trust us to handle your ride with care.
Our flatbed tow trucks come equipped with hydraulic ramps and are specially built to accommodate motorcycles. This means we can load and unload your bike with ease while ensuring that it remains secure and protected during transportation. At Tamarac Towing Company, we understand the value of your motorcycle, which is why we take every precaution to ensure that it is not damaged in transit.
Our priority is to minimize the stress associated with towing for our customers. Our dedicated team is committed to providing quick and efficient service, so you can quickly get back on your motorcycle. Whether you're facing a flat tire, a dead battery, or a breakdown, we are here to assist you.
For motorcycle towing needs in Tamarac, FL Tamarac Towing Company is the ideal choice. With our strong focus on customer service and extensive experience in motorcycle towing, you can trust that your bike is in safe hands with us. Don't hesitate, to reach out to us today at (754) 333-6251 , and let us handle all your motorcycle towing needs.
Florida:  The State For Riding
Riding motorcycles in Florida is an exciting experience. The state's warm climate and scenic roads, such as the Miami to Key West scenic highway, make for an enjoyable ride. The winding roads, stunning beaches, and stunning views provide a sense of freedom and adventure for riders. Florida is a great place to enjoy the thrill of motorcycle riding.
Hop on, fire up your hog, and cruise.
Towing Your Bike
There are several reasons why your motorcycle may need a tow, including:
Flat Tires: Flat tires can halt your motorcycle riding experience, and changing them on the side of the road can be challenging. Let us transport your motorcycle quickly and safely to a location for repairs.

Engine Issues: Engine problems can be annoying, especially when you are far away from home. Our towing service is here to assist you in getting your motorcycle to a repair shop for a prompt and dependable repair.

Chain or Shaft Drive Difficulties: Difficulties with the chain or shaft drive can render your motorcycle immovable, and fixing them on the side of the road can be problematic. We can help you transport your motorcycle to a repair shop where the issue can be resolved.

Brake Concerns: Brake problems can be hazardous and must be dealt with promptly. Our towing service is here to help you get your motorcycle to a repair shop for a fast and reliable repair.
In addition to motorcycle towing, we also offer a range of other services to help get you back on the road as quickly as possible. These services include emergency EV charging, lockouts service, and cheap towing, all of which are designed to help get you back on the road as soon as possible.
At Tamarac Towing Company, we aim to alleviate the stress and hassle of motorcycle breakdowns. Our team is knowledgeable of Broward County and able to reach you promptly. Don't let a flat tire, engine trouble, chain or shaft drive issues, or brake problems keep you from enjoying your ride. Contact us today for a fast and efficient solution to your motorcycle towing needs.
Tamarac Towing Company:  (754) 333-6251.